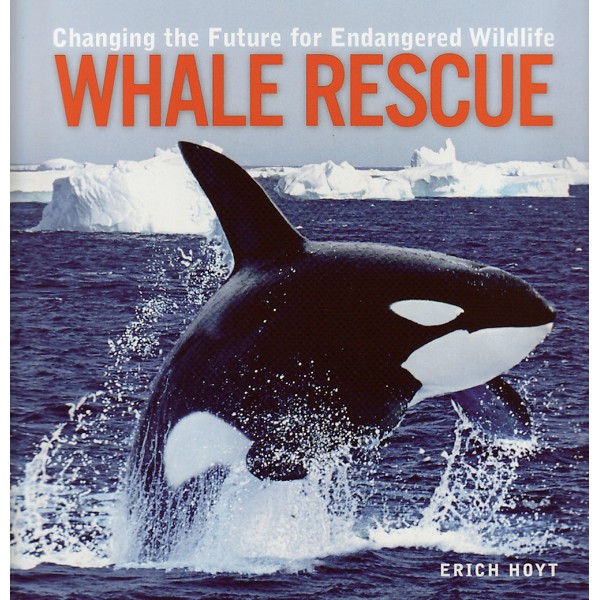 Signed copies available from Erich Hoyt Books.
Written for ages 9 to 15 and a good introduction to the subject for all ages including adults. Firefly, US, UK and Canada, in simultaneous hardcover and paperback, 2005, 64 pages. Pbk, £6.95 / $9.95. Hardcover, £12.95 / $17.95
Selected Reviews
"An engaging new nonfiction book for children with many dramatic color photos." — Novelist Janice Harayda who cited the book as one of her favorite books on the popular www.readerville.com site
"The language is succinct and straightforward and the color photos will thrill whale lovers. Students will find plenty of fodder for reports or personal interest." — Booklist (USA)
"Hoyt's sensible, no-nonsense approach is exactly what's needed to convey the urgent message…about the current state of whale populations and species, the threats they face and conservation efforts to save them….A wide subject area is deftly handled and the whole book is pulled together by a pleasing design. This timely book should easily hold the attention of any interested young reader." — Rachel Jackson, Whale and Dolphin Magazine (UK)
"A rewarding, inspiring look at issues that affect cetaceans, and some of the people who have committed their lives to finding scientific solutions. We all need heroes. In this slim book are profiles of several heroes that whale enthusiasts will have followed for years. Each is a unique profile of someone who spends, even risks their lives helping whales…The collective achievements in this book are enormous, but their value here is to show some of the ways the next generation can reach further. Whale Rescue is a book of basic facts and awesome pictures to grab the interest of anyone, to enthrall the adventurous youngster looking to make the world a better place." — William Rossiter, Cetacean Society International director, reviewing in Whales Alive!
"The sheer beauty of these magnificent animals, together with Erich's in-depth knowledge is captured in this easy to read and very informative book. A solid reference on both whales and the ongoing efforts to protect them." — East Lothian Life (UK)
"Highly recommended! High quality photographs add to the book's appeal." — Canadian Materials
"A simple but very informative format…an excellent overview of the good news about whales and dolphins…but Hoyt doesn't sugarcoat the bad news. This small (64 pages) and reasonably priced book will inform…and definitely intrigue those readers who want to learn more…While the book is classified as juvenile literature, it will be of great benefit to students as well as anyone who realizes that in order to protect an animal and its habitat, they need to know and understand the full range of threats as well as the complexity of that species' life in the wild." — Bonnie Gretz, American Cetacean Society, Newsletter
For signed copies or quantity discounts, click here. Or buy through Amazon.co.uk and Amazon.com.