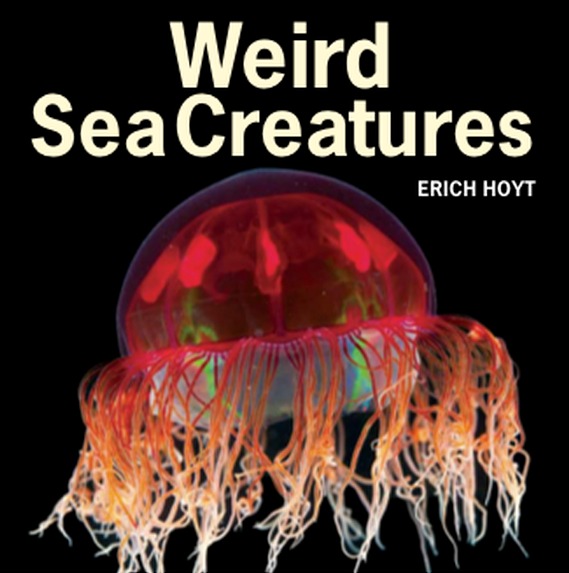 Signed copies available from Erich Hoyt Books. Written for ages 10 to adult and a good introduction to the subject for adults. 50 outstanding colour photographs, 9″ X 9″ X 1/4″. Firefly Books, US, UK and Canada, in simultaneous hardcover and paperback, 2013, reprinted 2019. Japanese edition (Kagaku-Dojin Publishing Co., Inc), 2020. 64 pages. Pbk, £7.95 / $9.95. Hardcover, £12.95 / $19.95 
An illustrated look at the weird and wonderful creatures that live in some of the deepest parts of the sea.
Humans have always wondered, with a mixture of fear and fascination, what lurks beneath the surface in the ocean depths. In this book, Erich Hoyt introduces 50 of the oddest creatures you will ever meet in the sea. From the carnivorous comb jelly to the lantern-carrying deep-sea dragonfish, from jeweled squid with giant eyes to dancing jellyfish, Hoyt explores these peculiar conditions and their equally peculiar environment.
These creatures have adapted to lack of light and, using light-producing organs and pigment cells (emitting light via bioluminescence), they are able to communicate without giving their location away to predators.
In these pages, readers gaze into strange, wild eyes and study faces with toothless or crooked smiles that witness the fruits of deep-sea evolution. Informative captions explain what the patterns of lights on their bodies are "saying" to others in their absolutely dark world. The wonder and extraordinary weirdness of what lives in the deep seas, so far away from us and yet so close, will become more familiar with this book.
Selected Reviews
Short-listed for School Library Association Information Book Award 2014.
"Close-up photos of 50 creatures—gathered, mostly, from ocean deeps—demonstrate that even our own planet's residents can look really, really alien. The main event is prefaced by an introductory essay explaining the photographers' methods as well as the mechanisms of bioluminescence and other adaptations to deep sea conditions…[The] picture gallery features full-page side or front views of animals ranging from bulbous sea cucumbers and sea anemones to an exaggeratedly toothy viperfish, a writhing benthic octopus and a furry crustacean evocatively dubbed a yeti crab….Eerie, riveting eye candy for budding biologists and casual browsers alike." — Kirkus Reviews, 15 May 2013
"Author and ocean researcher Erich Hoyt has produced an amazing book about the sea creatures from the deepest levels of the ocean. The discoveries from that part of our planet are only beginning to be made. In fact, some of the creatures in this book are not yet officially named. They are new, unidentified species! The creature descriptions are written for older students and adults but with younger readers in mind. The bright and colourful over-sized photographs, which are set on a deep-sea black background, simply pop from the page, allowing one to imagine how these creatures would appear in the ocean. The photos are awesomely intriguing. Weird Sea Creatures would make a wonderful addition to an ocean life collection or a special gift to a future oceanographer. Highly recommended." — Sherry Faller, Canadian Materials XIX (29), 7 June 2013
"Major cool illustrated title on the animals that live in the depths of the ocean. The photos are amazing; I honestly cannot get enough of this kind of thing, it's endlessly fascinating. Ages 10 & up but really there's no age for this kind of book." — Colleen Mondor, jacketflap.com
Starred Review: "Fangs, 'fur,' and photophores abound in this colorful celebration of decidedly odd and recently discovered species. Through 50 gorgeous photos, readers are introduced to a yeti crab; a spined pigmy shark; Dumbo, the octopod; and many other deep-sea dwellers. A carefully constructed introduction presents the physical characteristics of the abyssal ocean–its cold darkness, its cruel pressure–and of the difficulties in finding, collecting, and photographing the creatures that call it home. Also included are explanations of the function of chromophores and photophores and the little that is known about the "language of light"' of abyssal animals. Following those informative pages is an album of rare beauty. Stunning full-page photos give readers a rare close-up view of animals ranging in size from a 1/24 inch oikopleura squirt to a six-foot-long orangeback flying squid, each accompanied by a brief informative paragraph. A veritable book of revelations….A feast for the eye and a tickle for the mind." — Patricia Manning, School Library Journal, NY, July 2013
"This unusual book showcases riveting photos of rarely seen and recently discovered deep-sea animals. Brightly lit, clearly delineated, and often highly magnified, their colorful and sometimes bizarre or even horrific forms seem to glow against the stark, black backgrounds. A marine researcher and conservationist, Hoyt contributes a fascinating introduction discussing conditions in the deep ocean, where typical conditions include extreme cold, pressure, and darkness, and some of the animals use echolocation or bioluminescence for survival. He also explains how photographers captured the remarkable images. Although his descriptions of the creatures, their habitats, and the process of photographing them will be more accessible to older children and to adults, the dramatic photos will attract a very broad audience. — Carolyn Phelan, Booklist, American Library Association, Chicago, 1 July 2013
"Amazingly weird sea creatures…wondrous and fantastically artistic…With an appropriate black deep-sea background, 50 of the oddest animals ever are presented in up-close, uber-clear format, many with transparent bodies and toothsome wide-opened jaws. The lantern-carrying, deep-sea dragonfish, jewel squid with giant eyes, and the carnivorous comb jelly are just a few of the extraordinarily weird ocean creatures starring out at readers. Brief text, enough to introduce the animals and describe their sizes, ways of defense and proper names, is placed in small white text so as not to detract from the fascinating photographs. Weirdest of all in my opinion? The frightening Sloane's Viperfish, or the transparent, glowing sea cucumber with light-producing organs. Kids and adults will be amazed that these odd beings exist." — Lee Littlewood, "Creature Books to Inspire Awe", Kids' Home Library, Creators.com, 20 May 2013
"In this book, the reader will be introduced to 50 weird sea creatures such as the carnivorous Comb jelly, the Deep-Sea Brittle Star and the Squat Lobster to name just a few. Many have been discovered by scientists so recently that they have no definite scientific name. This resource has spectacular images with detailed background information for each caption. The photographers took long cruises across the oceans to capture and record these odd, unknown sea creatures. Several of these creatures are found in the deepest part of the sea. The introduction discusses how these creatures adapt to their underwater environment. The author encourages the reader to take in the wonder, the extraordinary weirdness, of what lives in the sea. This book would appeal to young and older readers who are fascinated by the many creatures who live in the deep. — Cynthia Smyth, Resource Links 19(1):21 (Oct. 2013)
"Kids who prefer non-fiction and love weird stuff will leaf through this book again and again. It features incredible photographs of 50 of the oddest animals that live in the sea. The images appear to be illuminated on the glossy black pages for this look at creatures that live in the deepest parts of the sea. Not only weird, many are elusive, having only been recently discovered and are therefore unnamed." — City Parent (May 2013)
"In this book, Erich Hoyt explores the strange and hostile environment where what appears weird is the norm. The photographers took long cruises across the oceans to capture and record these little-known creatures. Inside these pages you will look with fear and fascination at 52 of the oddest animals you will ever meet… The wonder and extraordinary weirdness of what lives in the deep sea, so far away from us and yet so close, will start to become familiar with this book." — Sylvia Earle, Mission Blue Blog, Sylvia Earle Alliance, 1 April 2013
For signed copies or quantity discounts, click here, or go to erichhoytbooks.com. Books are also available from independent book stores and other book sites. You can also buy books through Amazon.co.uk and Amazon.com, as well as other amazon and book sites worldwide.