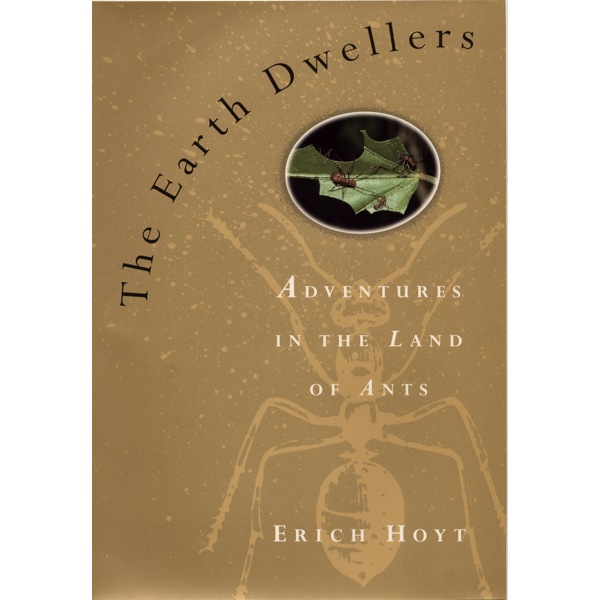 Signed copies available from Erich Hoyt Books.
First edition, Simon & Schuster, New York, hardcover, 1996; Touchstone paperback 1997; Mainstream, London & Edinburgh 1998; Kadokawa Haruki Jimusho, Tokyo 1998; Hainan, China 2001. In print, 2020.
Prizes and Distinctions
One of 25 Books to Remember, New York Public Library (chosen from among all fiction and nonfiction of the year)
Finalist, Best Books of 1998, Good Book Guide, London
Finalist, Science in Society Book Award, Canadian Science Writers Association, Toronto, Canada
First Prize, Canadian Outdoor Writers Book Award
Theatrical film and TV rights sold to Vega Film GmbH, Berlin. Rights reversion to author as of 2020.
Selection of the TSP-The Softback Preview (London) and Newbridge Book Club/ Book of the Month Club, USA
Selected Reviews
"Extraordinary… Hoyt who made his naturalist's name writing of leviathans turns now to motes, in whose realm he is just as comfortable and inspired. He fashions the ants into enchanting creatures. Fabulous stuff, commandingly told, with wit, color and grace. " — Kirkus Reviews, New York (starred review)
"An astounding book…taking readers inside the tiny terrible world of ants." — The Daily Mail
"Erich Hoyt makes the case for ant rule in his splendid book The Earth Dwellers, promoting it with charm, fact-filled conviction and sincerity in a fascinating, multi-layered book. Delightful…some of the finest natural history writing I've read." — New Scientist
"Intriguing… enthralling… A good introduction to a remarkable subject. (The) ant's eye view of life works spectacularly… a few of the ants Mr. Hoyt describes are even as likeable as the people." — The New York Times (daily edition, syndicated to US papers)
"I was caught up in the dramas Hoyt relates: I was rooting for the leafcutter scout when a pair of bullet ants approached her with less than friendly intentions. I felt myself physically in the ant''s world. One of the most arresting features there is smell. Hoyt manages to bring this foreign dimension of perception very much to life. His book is redolent of La Selva in a way that escaped me when I was visiting the place. The book culminates with the description of all-out war between colonies of aztec ants in a cecropia tree near the laboratory at La Selva. The drama is palpable and the fugue of war perceptible… The Earth Dwellers is an unexpected and enchanting view of another creature's world. I was charmed and humbled by Hoyt's powers of evocation." — Roger Lewin in the Los Angeles Times (Book Review)
"A complex tale, with a cast of millions, most of them six-legged, but also including E.O. Wilson and William Brown Jr. Mr. Hoyt … captures wonderfully the lighthearted joys of the (scientific) endeavors. But the real stars here are the ants. By juxtaposing the ants' and researchers' lives while giving the ants the lion's share of the pages, Mr. Hoyt elevates these insects to a level of consideration usually reserved for humans. Entertaining the reader with diverting details, he makes it easy to swallow the assumption embedded in the book's construction that ants have a perspective worth envisioning. More than mere study subjects, they begin to seem, like their human compatriots, just citizens of the planet going about their business. For those who think that ants are all about contaminating sugar bowls or being stamped smartly underfoot, there is much here to ponder." — The New York Times Book Review
"A fascinating account of ants and their treasure hunters: we have much to learn about life from both." — Prof. Lewis Wolpert, CBE, FRS, University College London Medical School
"Too often, works about the wonders of the living world focus on mammals and birds. They seem more like us. Hoyt's narrative switches back and forth between ants' view of their world, and our view of them (or, more specifically, the view of the two most distinguished ant-studiers of recent times, E. O. Wilson and W. L. Brown). This is an unusual and provocative book, but ultimately a most rewarding one." — Prof. Sir Robert May, AC, FRS, University of Oxford, Chief Scientific Adviser, UK Govt.
"Hoyt has achieved the impossible in this remarkable book. His elegant, enchanting, and humorous writing style has turned a scientifically-accurate treatise into a real page-turner. Set in the nature reserve of La Selva, Costa Rica, his story provides an utterly absorbing insight into the weird and wonderful world of ants. It is a world that is both alien and oddly familiar, as Hoyt describes the lives of ant societies that plant underground gardens, build their own bridges, make war and even display human-like feats of altruism and loyalty. Intriguingly, his ant stories alternate with the real-life adventures of two great biologists and eccentrics, Edward O. Wilson and William L. Brown, Jr… and eavesdropping on their child-like banter, 'as they trade one-liners, barbs and fish-style ant stories', is an absolute delight." — Mark Carwardine in The Good Book Guide
"A fascinating book which takes a balanced close-up on the incredible world of ants. " — The Scotsman
"Hoyt is an excellent natural history writer…a careful, thoughtful author…Ants, not human beings, rule this planet, and he never lets that fact drift far from center stage." — Roger Caras (author, ABC-TV correspondent, ASPCA pres.) reviewing in the Miami Herald and Philadelphia Inquirer
"Popular science writing at its best…even the bare facts would be interesting, but Hoyt makes a fascinating whole by turning the facts into a narrative, following several specific colonies and even individual ants. Without anthropomorphizing, he makes you care about those ants, to the point that your heart begins to pound when a flood strikes the leafcutters, putting the entire colony in danger." — The Roanoke Times
"Almost like science fiction. Hoyt makes this [strange world] intelligible and fascinating." — Michael McCloskey, Chairman, Sierra Club
"Elegant popular science…recommended. A splendid example of complex science made accessible to lay readers. More than an engaging study of ants, it is a clear and lively portrait of the grand old men of myrmecology (the study of ants). Pen-and-ink illustrations by Ruth Pollitt complement the text beautifully." — The Plain Dealer, Cleveland, Ohio
"The Earth Dwellers is a scientifically serious but fun-reading wallow in natural history. Hoyt, writing as if he is rummaging through one of nature's most fascinating mysteries, likes a point blank approach. And it's this quality that draws the reader into the ant world with bug-eyed interest. In his exceptional ant close-up, wonder is the main ingredient of the book. Mesmerizing!" — San Francisco Chronicle
"This interesting book describes the natural history of leafcutter, army, Aztec, bullet, and little fire ants at La Selva in Costa Rica and the myrmecologists (ant specialists) who study them. A novel aspect is the portrayal of the daily lives and interactions of ants from their sensory perspective. The book includes a who's who list of past and present myrmecologists and naturalists. A wealth of information is presented on ant biology, ecology, and evolution. Hoyt's book provides new insights and is fascinating reading." — Science Books & Films, AAAS
"Nicely complements E.O. Wilson and Bert Hölldobler's own writing on ants and the rain forest… Recommended." — Library Journal
"A modern-day Gulliver takes us to the captivating world of ants – and better yet, in the company of the engaging giants of that science. An alluring and richly fascinating account." — Thomas E. Lovejoy, Smithsonian Institution
"Why is it that we are fixated on our spheres of magnitude, the one of man, sheep and horses, when there dwells amongst us, roughly two powers of ten smaller than us, a whole cosmos of the most thrilling and highly organised creatures one can think of? Erich Hoyt leads us skilfully and with considerable wit into the world of ants, making fictional tales of extraterrestrial life bland by comparison. Intricate and fascinating, this book is not least an important contribution to conservation understanding." — Dr. Claude Martin, Director General, WWF International
"Ants, as the ancient Greeks realized, are philosophical and fascinating creatures. One doesn't begin to comprehend the incredible complexity of nature until one has studied them. And now, with Hoyt's dazzlingly explicit and illustrated text, you have no excuse….As very much a world authority, Hoyt marvelously brings the ultimately mysterious to life." — John Fowles, novelist (The French Lieutenant's Woman, The Magus, The Collector, Daniel Martin)
Other editions: Paperback, Japanese, UK, Chinese

Table of Contents
1. Workers' Paradise
2. The Miracle Ant
3. Superorganism
4. Amber Tales
5. Coming of Age
6. The Flood
7. Nuptial Flight
8. Ant Wars
9. Back to the Lab
10. Revisited

For signed copies or quantity discounts, click here. Or buy through Amazon.co.uk and Amazon.com.