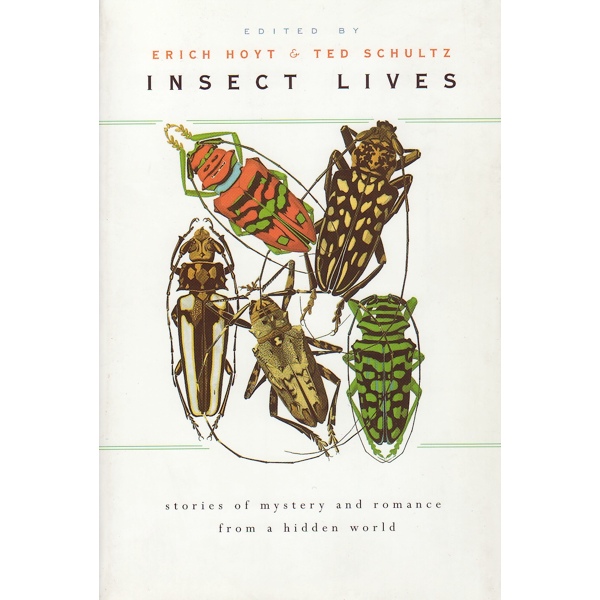 Signed copies available from Erich Hoyt Books.
First edition, hardcover, John Wiley & Sons, New York, 1999; Mainstream, London and Edinburgh, 1999 
Paperback, Harvard University Press, Cambridge, MA, USA, 2002
Kindle edition, 2012
In print, 2019.
Selected Reviews and Awards
Named as one of the "Outstanding Books for the College Bound" by the American Library Association.
"Erich Hoyt and Ted Schultz share their magnificent obsession in Insect Lives. In a tour de force of popularization, they bring us the finest entomological writing of the past couple of millennia…An excellent, illuminating compendium whose breadth serves both as praise for the diversity and frequent weirdness of its subjects and for the scholarship and dedication of its authors. " — New Scientist
"Taken altogether, this collection delivers what Hoyt and Schultz promise in their introduction – 'a sweeping tour of the human fascination with insects.' The result is mighty good reading, abetted by many rewarding illustrations." — Scientific American
"At last, an antidote to turgid entomological reference tomes, too-brief insect identification guides and dumbed-down pop-up books. Here is a book actually to read. The wonder of the world is reflected in the many descriptions of insects' astonishing and secretive lives. Together, these selections grow into a genuinely entertaining and informative text. Selected because they are well-written…they lead the reader through the landscape of what really amounts to a high literature on insects." — BBC Wildlife
"Hoyt and Schultz have triumphed in collecting works by noted scientists who can really write. Lyrical, funny and vivid, the pages of Insect Lives are riveting. Like flypaper." — Nature Conservancy Magazine
"Last year we had to pack a car with our belongings to flee with, in case the bushfires took our house. This was the first book I packed, and I could only take so many. This hardback has everything. It has the attention to detail and to appropriate aesthetics that every collection of fiction should. Its arrangement is logical, table of contents visually distinctive and appropriate. Its index works. As a read, it is the perfect combination of ripping yarns, beautiful artwork (wisely sparse, and all black and white), and hilarity. A fine judgment has gone into the choice of fonts and styles of type, as well as white space on the page." — Award-winning novelist Anna Tambour on "exemplars of well-designed, well-made books", fantasticmetropolis.com
"Human perspectives on insects lurch between fear and fascination. This collection displays the full spectrum of views, in writings by Aristotle, Darwin, Wordsworth, Thoreau, and many more. Most of the authors excerpted here are bug enthusiasts, and they portray the marvels of the insect world with evident joy." — Science News
"An outstanding array of readings on an extraordinarily successful group of organisms…Black and white photographs and diagrams enhance the volume, but the book's greatest feature is its outstanding selection of writings on insect lives that have appeared over the last few thousand years. I recommend this volume highly to biologists, entomologists, and devotees of natural history." — Science Books & Films
"A selection of the very best writing on insects, with a healthy chunk of the interesting and quirky thrown in…it gives a highly entertaining view of the world of insects and those who love them. This book is captivating and a great deal of fun." — The Science Reporter, Association of British Science Writers
Table of Contents
1. Wonders of Creation: Insects Praised
2. Plagues of Vermin: Insects Reviled
3. To Conquer the Earth: Insects Take Over
4. A Cast of Millions on a Fantastic Journey: Mass Movement
5. The Superorganism: Social Insects
6. Insect Architecture
7. Go Forth and Multiply: Mating and Reproduction
8. Metamorphosis
9. Symbioses and Mimicry
10. Lives under the Microscope: Insect Behavior
For signed copies or quantity discounts, click here. Or buy through Amazon.co.uk, Amazon.com and other online sites.